Airmen from the 8th Expeditionary Air Mobility Squadron and soldiers from the 3rd Squadron, 6th Cavalry Regiment unload two AH-64 Apache helicopters from a C-17 Globemaster III. (AiirSource Military/ouTube)
Boeing's C-17 Globemaster is a beast of an aircraft capable of transporting tons of military gear, personnel, and vehicles all around the world. However, as capable as the aircraft is on its own, it still requires a team of troops to unload its cargo. When that payload includes an AH-64 Apache chopper, getting it off the plane is no easy task.
A video posted to YouTube shows the process of unpacking the helicopter from the belly of the C-17 on to the tarmac. The clip is a montage of the entire process shrunk down to just a few minutes, but it documents the complex procedure from start to finish.
Check out the video below:
According to the video's uploader, the troops featured in the video are from the 8th Expeditionary Air Mobility Squadron and the 3rd Squadron, 6th Cavalry Regiment. More than a dozen crew members can be seen helping with the delicate task of getting the military chopper and cargo out of the plane.
The video clip also puts the troops, chopper, and C-17 aircraft into perspective and offers an interesting glimpse at the sheer size and scale of the transport plane itself.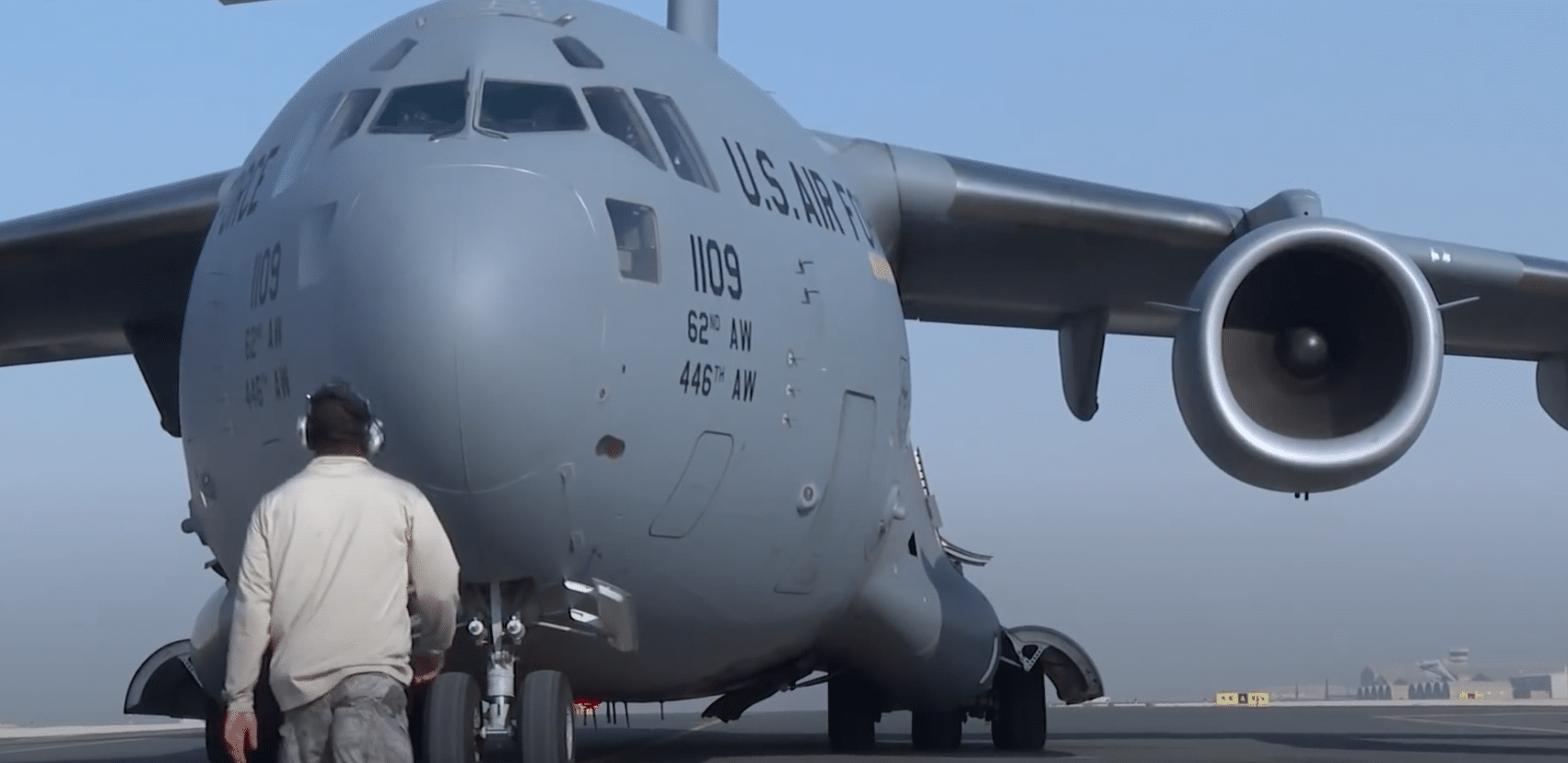 The AH-64 is a fairly large aircraft in its own right. The twin-turboshaft attack helicopter comes in at nearly 60 feet in length with a 48-foot diameter rotary.
Of course, the chopper's size is not its only recognizable characteristic. The chopper – which has been used by the military for more than 4o years – packs an impressive array of armaments that makes it particularly handy in combat. With a 30mm chain gun, four hardpoints and dozens of rockets and missiles to choose from, it is no wonder why the Apache continues to be one of the most feared aircraft in the sky.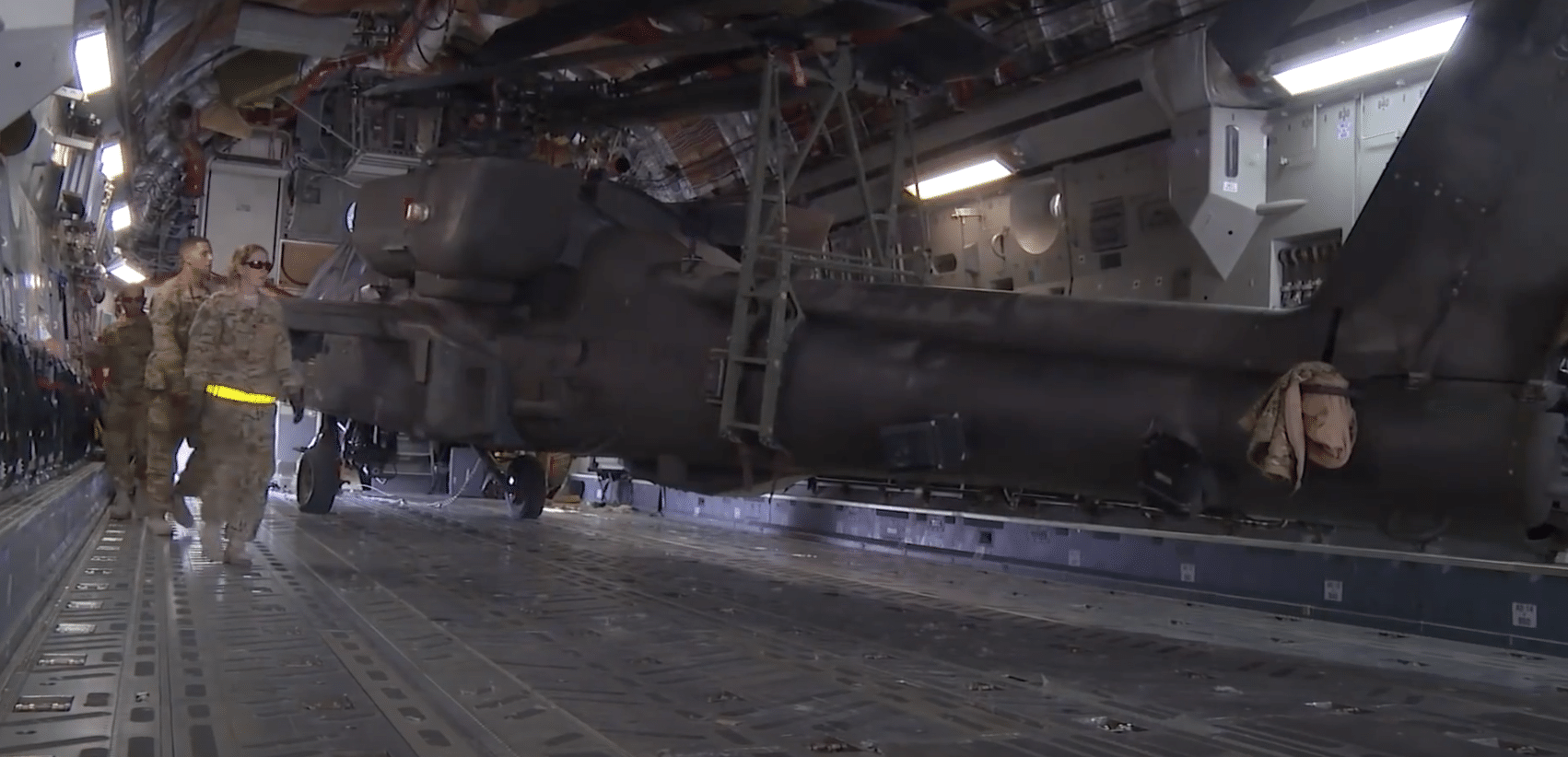 As a transport plane, the C-17 Globemaster has been an integral aircraft in the United States Air Force fleet for nearly three decades. Its crew includes two pilots flying and a loadmaster responsible for managing the up to 170,000 lb cargo distributed throughout the aircraft.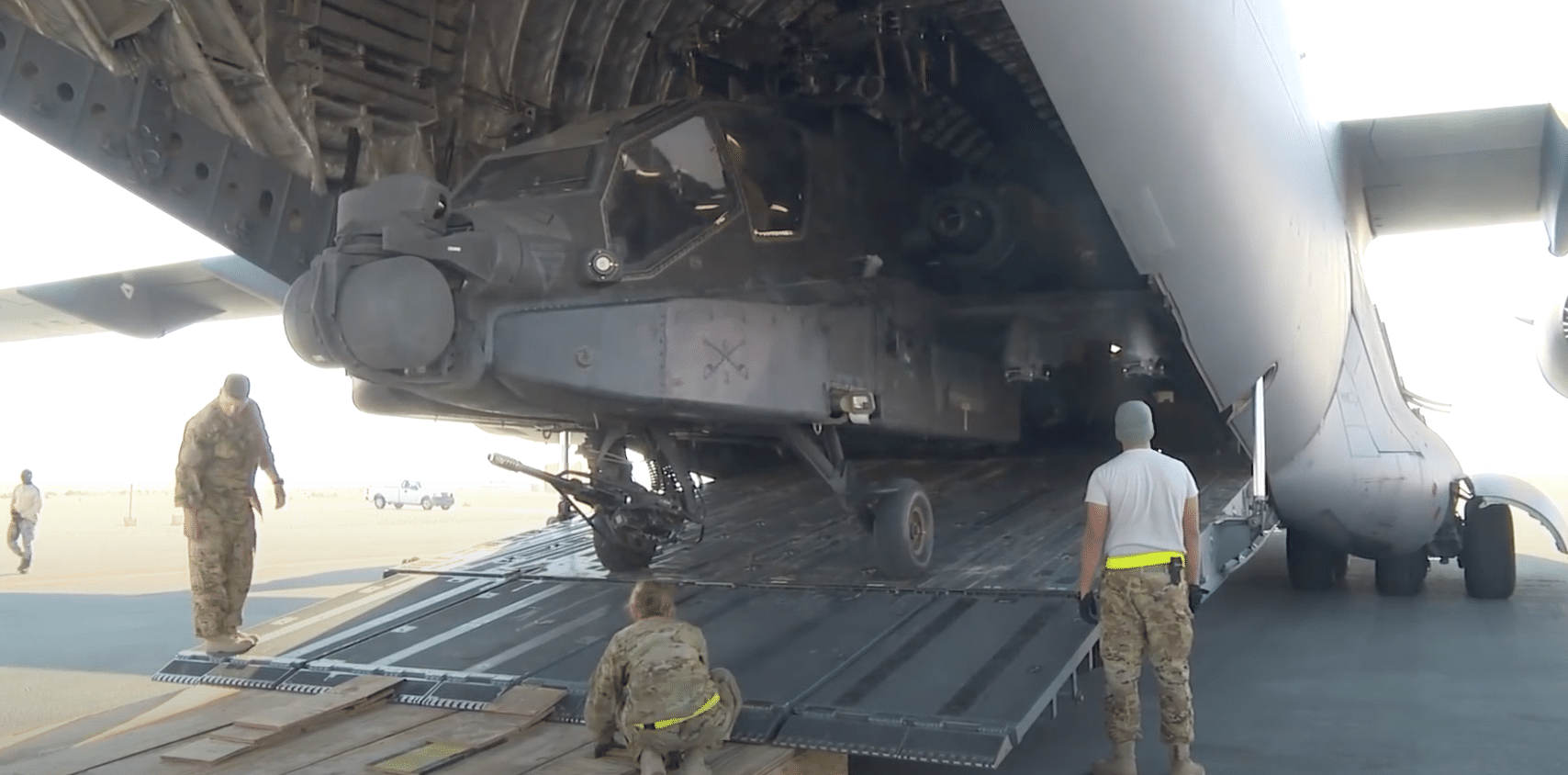 The C-17's cargo area can transport more than 100 paratroopers in a single load. In addition to military personnel, the aircraft can of course haul various military vehicles and other smaller aircraft as well. Often times, the C-17 will carry M1 Abrams tanks, Strykers, M117 armored vehicles, and more.
The massive aircraft has a wingspan of nearly 170 feet, almost twice as wide as the average passenger jet.