Video of the rescue team catching pythons at Mrs. Som Mohamad Saleh's house (source: Dailytelegraph)
It all started at around 4am on February 11 (local time) when Som Mohamad Saleh, 57, heard strange noises coming from the ceiling. She thought that it could be monkeys entering the house and being naughty, so she ignored it.
On the morning of February 12, Norsharihara Zakaria, 26 years old, (Saleh's daughter) saw a crack in the ceiling. The crack grew larger and larger until the tail of a large python was exposed.
That's when Saleh and her mother ran out of the house and called the town's emergency crew.
It took a team of seven people to pull two pythons out of Mrs. Saleh's house.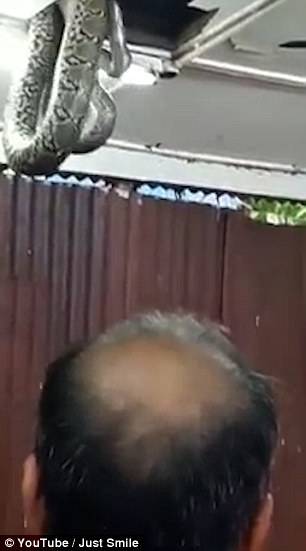 In a video posted on Twitter on February 15, a lifeguard hit the ceiling with a stick to scare away the animal. The weight of the two pythons caused the ceiling (which is quite thin) to collapse amid the screams of the onlookers.
The two pythons managed to crawl back into the ceiling, but were caught by rescuers by the tail and dragged into the street.
"The owner heard many strange noises from the ceiling at night," commented the rescue team.
The hair-raising video of two pythons attracted more than 10 million views on Malaysian social networks.
"If it were me, I'd probably burn down the whole house to ease my fear," one netizen commented humorously.
"Nightmare pythons. Maybe we have to move to Mars to get rid of them," another wrote.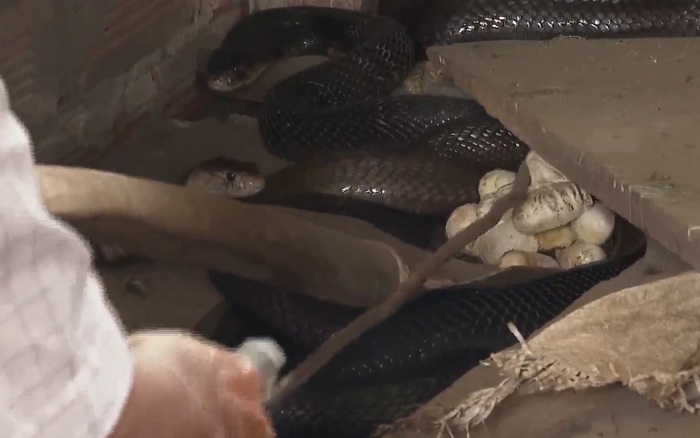 According to the Straits Times, the two pythons chose the ceiling of Ms. Saleh's ceiling as a place to mate and they seem quite angry when disturbed.